Les 17 finalistes pour le Hall of Fame de Canton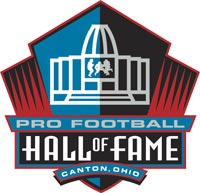 Mise à jour du 09/01/2011 à 18:54
La ligue a annoncée ce matin le nom des 17 finalistes pour l'élection au Hall Of Fame de la classe 2011 (rappelons qu'entre 4 et 7 seront finalement élus). 2 anciens joueurs seront normalement ajoutés à cette liste fin aout.
A coté de ces « jeunots », 4 anciens se présentent aussi pour la première fois : Chris Doleman, Chris Hanburger, Les Richter et Ed Sabol. Sabol est un contributeur à la NFL car il a dirigé la filliale NFL Film ; Hanburger et Richter sont eux presentés au titre de joueur « vétéran » puisqu'ils ont joués il y a plus de 25 ans.
Parmi les 17, 5 se présentent pour la première fois au Hall Of Fame (car ils ont terminé leur carrière il y a tout juste 5 ans) : Jerome Bettis, Marshall Faulk, Curtis Martin, Willie Roaf et Deion Sanders.
8 joueurs se représentent : Tim Brown, Cris Carter, Dermonti Dawson, Richard Dent, Charles Haley, Cortez Kennedy, Andre Reed et Shannon Sharpe ; ces derniers ont eux déjà été finalistes les années précédentes mais n'ont pas eu le nombre de vote nécessaire à leur intronisation : ils retentent donc leur chance cette saison.
Pour mémoire voici la fiche de chacun de ces 17 :
» Jerome Bettis, RBRunning Back (RB)
Terme générique qui englobe les HB et les FBFullback (FB)
coureur puissant et polyvalent. Il joue le rôle de bloqueur, de receveur et de bulldozer balle en main. Constitue avec les halfbacks (HB), les running backs (RB).. (1993-95 Los Angeles/St. Louis Rams, 1996-2005 Pittsburgh Steelers)
» Tim Brown, WR/KR (1988-2003 Los Angeles/Oakland Raiders, 2004 Tampa Bay Buccaneers)
» Cris Carter, WR (1987-89 Philadelphia Eagles, 1990-2001 Minnesota Vikings, 2002 Miami Dolphins)
» Dermontti Dawson, CCenter (C)
c'est le joueur de la ligne offensive qui transmet le ballon entre ses jambes au QBQuarterback
c'est le stratège de l'équipe. Il décide des tactiques avec ses coachs. Il est chargé de transmettre la balle à ses coureurs et de distiller les passes à ses receveurs. lors du snapSnap
signal de départ de l'action, quand le centre transmet la balle au QB.. (1988-2000 Pittsburgh Steelers)
» Richard Dent, DE (1983-1993, 1995 Chicago Bears, 1994 San Francisco 49ers, 1996 Indianapolis Colts, 1997 Philadelphia Eagles)
» Chris Doleman, DE/LB (1985-1993, 1999 Minnesota Vikings, 1994-95 Atlanta Falcons, 1996-98 San Francisco 49ers)
» Marshall Faulk, RB (1994-98 Indianapolis Colts, 1999-2005 St. Louis Rams)
» Charles Haley, DE/LB (1986-1991, 1999 San Francisco 49ers, 1992-96 Dallas Cowboys)
» Chris Hanburger, LBLinebacker (LB)
joueur de la défense polyvalent qui constitue le 2ème rideau défensive. (1965-78 Washington Redskins)
» Cortez Kennedy, DT (1990-2000 Seattle Seahawks)
» Curtis Martin, RB (1995-97 New England Patriots, 1998-2005 New York Jets)
» Andre Reed, WR (1985-1999 Buffalo Bills, 2000 Washington Redskins)
» Les Richter, LB (1954-62 Los Angeles Rams)
» Willie Roaf, OT (1993-2001 New Orleans Saints, 2002-05 Kansas City Chiefs)
» Ed Sabol, Contributor (1964-1995 NFL Films)
» Deion Sanders, CB/KR/PR (1989-1993 Atlanta Falcons, 1994 San Francisco 49ers, 1995-99 Dallas Cowboys, 2000 Washington Redskins, 2004-05 Baltimore Ravens)
» Shannon Sharpe, TE (1990-99, 2002-03 Denver Broncos, 2000-01 Baltimore Ravens)