Hall of Fame, classe 2018 : Ray Lewis, Randy Moss, Terrell Owens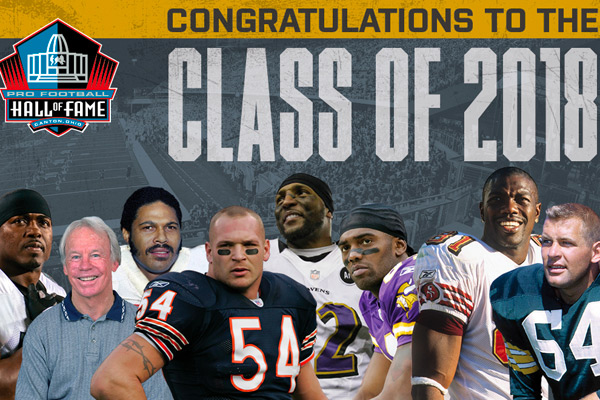 La Hall of Fame de Canton s'enrichit de 8 membres, à 319 Immortels, dont 5 de l'ère moderne : le contributeur Bobby Beathard, le linebacker Robert Brazile, le safety Brian Dawkins, le guard Jerry Kramer, le linebacker Ray Lewis, les wide receivers Randy Moss et Terrell Owens, et le linebacker Brian Urlacher.
Lewis, Moss et Urlacher sont élus dès leur première année d'éligibilité ; Dawkins y parvient à sa 2e tentative et T.O. a sa 3e.
Moss rejoint Cris Carter, son coéquipier chez les Vikings et T.O. Jerry Rice, le sien chez les 49ers. Ceci porte à 3 le nombre de duos de WRs au Pro Football Hall of Fame, John Stallworth et Lynn Swann des Steelers étant les premiers.
Les 2 élus du Senior Committee
Le linebackerLinebacker (LB)
joueur de la défense polyvalent qui constitue le 2ème rideau défensive. Robert Brazile a joué 10 saisons et disputés 147 matchs entre 1975 et 1984 avec les Oilers de Houston. Le guardGuard
homme de la ligne offensive placé à droite et à gauche du center. Il doit protéger le QB et creuser des brèches aux RB. des Packers Jerry Kramer de 1958 à 1968 a remporté 6 championnats dans les années 60 dont les 2 premiers Super Bowls. Il a aussi la particularité d'avoir été botteur de précision en 1961 et 1962.
Bobby Beathard

du "Contributor Committee"

Bobby Beathard a été dans la NFL pendant 33 ans et a notamment remporté les Super Bowls XVII et XXII avec les Redskins. Il a ensuite connu du succès avec les Chargers de San Diego de 1990 à 1999, avec lesquels il a disputé le Super Bowl XXIX.

C'est David Backer, le président du PFHOF, qui a annoncé en personne la bonne nouvelle aux lauréats. Leur émotion est impressionnante et on comprend bien ce que cela représente à leurs yeux.
.@PFHOFPrez makes the rounds to the doors of the new #PFHOF18 class members. This is how they learned they were officially elected to the Hall. pic.twitter.com/iSJQeHiLWv

— Pro Football HOF (@ProFootballHOF) 4 février 2018