La "Golden Team" du Super Bowl 50
QB Joe Montana, head coach Chuck Noll, kicker Adam Vinatieri
Voir toutes les infos de ce match (articles, statistiques, play-by-play...)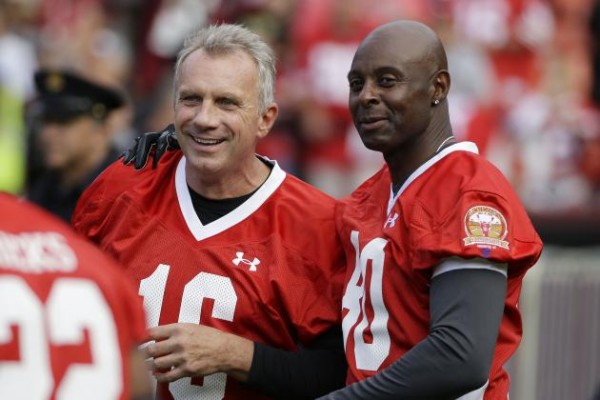 25 ans après la "Silver Team", le Pro Football Hall of Fame de Canton (Ohio) a annoncé jeudi la liste des 26 joueurs et du head coach élus pour la "Golden Team" du Super Bowl 50. Parmi eux, 22 membres du Hall of Fame et un seul joueur en activité, le botteur Adam Vinatieri.
Au poste de QBQuarterback
c'est le stratège de l'équipe. Il décide des tactiques avec ses coachs. Il est chargé de transmettre la balle à ses coureurs et de distiller les passes à ses receveurs., Joe Montana a été désigné sans surprise et est accompagné de son fidèle receveur chez les 49ers, Jerry Rice. Les Pittsburgh Steelers sont les plus représentés avec 8 membres dont le wide receiverWide Receiver (WR)
ceux sont les receveurs écartés. Ils sont spécialisés dans les réceptions des passes très longues. Ils sont extrêmement rapide : 40 yards en 5 sec. Lynn Swann et le head coach Chuck Noll.
Le roster complet de la Golden Team
| Position | Joueur(s) |
| --- | --- |
| Quarterback | Joe Montana |
| Running Backs | Franco Harris, Emmitt Smith |
| Wide Receivers | Jerry Rice, Lynn Swann |
| Tight End | Jay Novacek |
| Offensive Tackles | Art Shell, Forrest Gregg |
| Guards | Gene Upshaw, Larry Allen |
| Center | Mike Webster |
| Defensive Ends | Reggie White, Charles Haley |
| Defensive Linemen | Joe Greene, Randy White |
| Outside Linebackers | Lawrence Taylor, Jack Ham |
| Inside Linebackers | Jack Lambert, Ray Lewis |
| Defensive Backs | Mel Blount, Deion Sanders |
| Safeties | Ronnie Lott, Jake Scott |
| Kicker | Adam Vinatieri |
| Kick Returner/Punt Returner | Desmond Howard |
| Punter | Ray Guy |
| Head Coach | Chuck Noll |
Voir toutes les infos de ce match (articles, statistiques, play-by-play...)